2016 PDGA AMATEUR & JUNIOR WORLD CHAMPIONSHIPS – ROUND 1
Today, amateurs and juniors, men, women, boys and girls from around the country, met together to play the first (or first two) of five rounds for the 2016 PDGA AMATEUR & JUNIOR DISC GOLF WORLD CHAMPIONSHIPS RESENTED BY INNOVA. There were 216 ADVANCED men players, 40 ADVANCED women players, 72 ADVANCED men masters, 11 ADVANCED women players, 72 ADVANCED grandmaster men. players, 8 ADVANCED grandmaster women players, 36 ADVANCED Senior grandmaster men players, 4 ADVANCED Senior grandmaster women players, 3 ADVANCED Legion men players, 34 JUNIOR I boy players, 4 Junior I girl players, 32 JUNIOR II boys , 6 JUNIOR girls, 19 JUNIOR BOYS, 3 JUNIOR girls, 3 JUNIOR BOYS, 4 JUNIOR IV girls, 1
JUNIOR V girls, and 1 JUNIOR VI boys.They came from all over the country to see who are the best, and by Saturday they will know!
The highest ranked player in the tournament is Izak McDonald from Lockport, IL. He is rated 995 and is fifteen years old! The highest ranked girl/woman is Autumn Grace who is rated 879, but is followed by Junior I Valerie Mandujano by only 2 points, as Valerie is rated 877. Do not think, however, that their ratings will win the tournament for these hot shots. This promises to be a very hotly contested event as there are many very good players in all age groups and genders.
THE COURSES TODAY:
Tuesday's first round at "Token Creek" for the men, pool A, "Birds Ruins", for the men, pool B. And, "Hiestand in the morning and Capital Springs in the afternoon for the women. Madison, Wisconsin began with what would be scattered thunderstorms during the morning. Cloudy skies in the afternoon. High 87F. Winds SW at 10 to 15 mph. Chance of rain 60%. With all the divisions launching today it will be a grand opening of the 2016 PDGA AM WORLDS CHAMPIONSHIPS. With the temperatures in the High 87F and chance of rain, the scoring conditions will be very interesting for the first round.
The TOKEN CREEK
Token Creek or "VA" as it is known by some locals, is the area's "country club" course. The original 18 holes opened in 2001 as one of the first public pay-to-play courses in existence. The course has been very well maintained from the start, with trees and/or natural prairie areas defining fairways on each hole. The course was expanded to 27 holes in 2012. While most of the original 18 holes are fairly wooded, the newest nine are more open, with a few holes that let the bigger arms show off. However, the signature hole may very well be one of the shortest. #22 is wide open and barely over 250 feet from the long tees, but features a unique island green ringed by boulders that is approximately the size of the 10 meter putting circle. There is also a circle of tree trunks surrounding the basket. Since the new nine will also serve as the site of the Finals, this hole could make or break some championship dreams.
CAPITAL SPRINGS
The newest course used for the tournament, the Capital Springs DGC opened in 2013 as the second course in the Dane County Parks system. As with Vallarta-Ast at Token Creek, the grounds are well-maintained with a ball golf course feel. However, while Token Creek is generally flat, Capital Springs features rolling terrain with many holes that have 15 to 30 feet of elevation change. This course is also much more open with only one wooded section, while most holes are lined by prairie. Capital Springs is also the most exposed to the wind, which combined with the elevation changes, can make it difficult to control your shots. If the wind is calm, you'll need to shoot a low score to keep pace.
HIGHLIGHTS FROM FIRST ROUND
The ladies had two rounds today. The hotels to hand from the first round was JESSIE KLEHFOTH #59854 carding a 52 (-4). Second round both Rebecca "The Recca" Heiam # 68592 and Sai Ananda # 58303 shot the hot rounds at 55.
For the men, coming out with the hottest first round was two players: JASON BUTINA # 53664 and RYAN CONTO # 43919 shot (-8).
The MINNESOTIAN AND WISCONSIN take the co-lead for the men advanced.
The WISCONSIN AND OHIO ladies share the lead at (+1).
Jason Butina of Minnesota shares the lead with Ryan Conto from WISCONSIN.
MEN'S TOP FINISHERS HIGHLIGHTS
With 216  men competing for to be the World Champion, it will be a tight race to the finish.  Already we have two tied for the lead.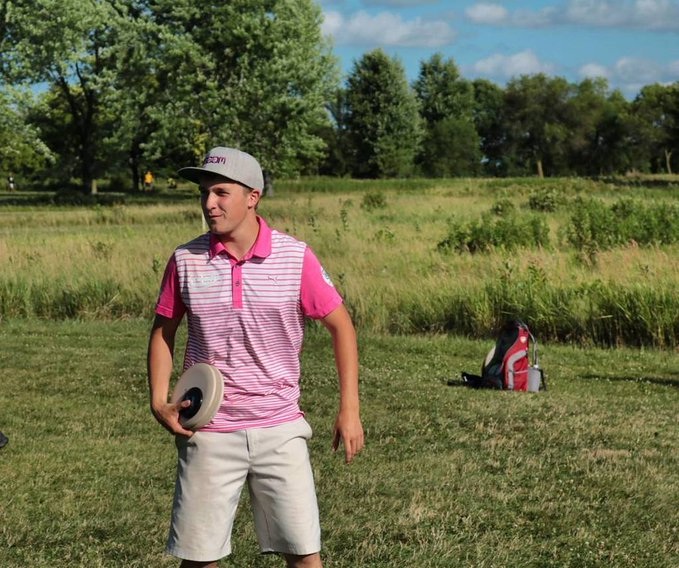 JASON BUTINA #53664 hailing from St. Paul, MN is currently rated 952. He was error free and picked up 13 birdies to shoot the hot round and take the lead with (-13).  PDGA reported results (-8).
RYAN CONTO # 43919 from Jackson, Wisconsin is currently rated 962. He only had one bogey on Hole 9 and picked up 14 birdies to claim the lead with (-13). He also shot the hot round too. PDGA reported results (-8).
IAN BURCHETT # 60435 from Oswego, Illinois is currently rated 957. Ian only had one bogey on Hole 4 and took 13 birdies to place in second position with (-12) for the round. PDGA reported results (-7).
KALEB SILVERBERG # 42438 hailing from EAU Claire, Wisconsin. He is currently rated at 938. Kaleb had no errors and landed 11 birdies to shoot a (-11) for a tie in fourth position.  PDGA reported results (-6).
ISAAC ROBINSON # 50670 Hailing from Snellville, Georgia is currently rated 968.  He picked up thirteen birdies and three back to back bogeys to result in (-10).  PDGA reported results (-6). He is tied for fourth.
BART KOWALEWSKI # 68737 Hailing from the great state of Michigan that's is Washington, MI. Bart is currently rated 962. Bart had no errors and picked up 11 birdies to shoot (-11) for his first round. He is tied in fourth. PDGA reported (-6).
Tomorrow's lead card will consist of Jason Butina (-6) , Ryan Conto (-6), Ian Burchett (-7), Kaleb SIlverberg (-6).
WOMEN'S SECOND ROUND TOP CARD FINISHERS HIGHLIGHTS
The women played at Capital Springs the second round. With 40 Women competing to be the World Champion in Madison, Wisconsin it's going to be competitive battle.
REBECCA HEIAM # 68592 from Onaiska, Wisconsin is currently rated at 860. Rebecca shot a 56 first round and 55 the second round to bring her (+1) going into third round. She shot a round rating of 864 and 924 respectively.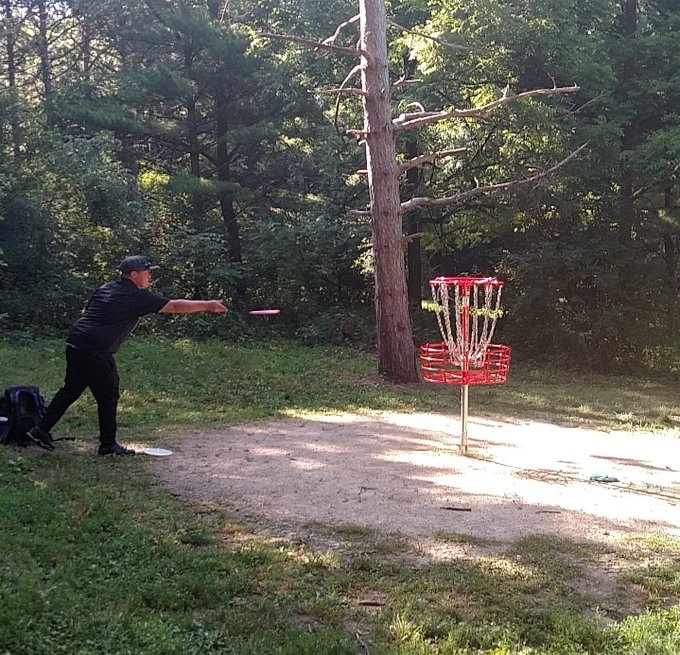 KRISTY MOORE # 56553 hailing from Reynoldsburg, Ohio is currently rated 868. KRISTY shot a 53 first round and 58 to finish with. (+1) and the tie for first.
SAI ANANDA # 58303 from Cheney, Wisconsin is currently rated 859.  She shot a 57 first round and a 55 second round to finish with (+2) for second position.
LAUREN BUTLER # 65489 is from Eugene, Oregon is currently rated 837.   She shot 54 the first round and 58 the second round to finish with a tie (+2).
Recap on the first round men and two rounds of men!
Tomorrow's lead card will consist of Jason Butina (-13), Ryan Conto (-13), Ian Burchett (-12), Kaleb SIlverberg (-11).
Tomorrow's lead card for the women is     Rebecca Heiam (+1), Kristy Moore (+1), Sai Ananda (+2), Lauren Butler (+2).
Scores
AM WORLDS 2016 Round 1 scoring
We also highly recommend checking out PDGALIVE.COM for live hole by hole scoring.