MEET AUSTIN MONTGOMERY, DISCMANIA'S TEAM CAPTAIN
Hucker Report interviewed the captain of Discmania, Austin Montgomery. Here is how he responded to our sir down questions.
HUCKER: How were you chosen to be the captain of your sponsor team?
AUSTIN: As an ex team member myself, I have a unique take on the team. I identify with the players needs, struggles and successes. Once I took the job with Discmania, I think it was a perfect fit for me to take over some of the Team Discmania responsibilities.
HUCKER: What attributes do you give to your team?
AUSTIN: I think our team is unique. We are on the smaller side of teams compared to other manufacturers. At the same time I think our team has one of the better overall personalities. With individuals like Simon and Eagle, it's easy for us to have fun.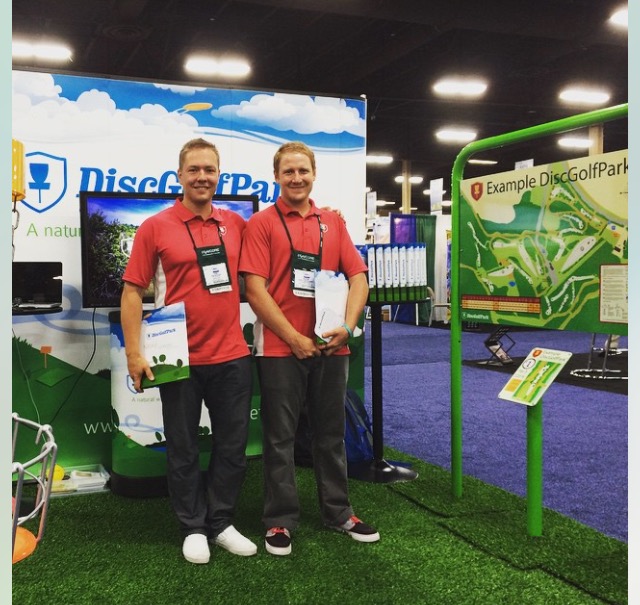 HUCKER: Describe the culture of your team and company you represent?
AUSTIN:  As stated earlier, I think the culture surrounding our team is focused around having fun and being yourself. We allow our players to really embrace their wild side instead of trying to fit some particular mold. This enables our players to worry less about acting a certain way and focus more on their play and promotion. We also have a pretty unique team feel in the sense that we are an international team, we have some great European players and personalities that adds to our team dynamic.
HUCKER:  What goals do you have for your team this year and what has been the team's greatest accomplishment to date?
AUSTIN:  Our goals for our team this year is to have more of a social media presence. We of course like to see great performances, we hope to see more of those this year, but above all else, we want our team to interact with the public and be approachable and likable. Our biggest accomplishment as a team would have to either be the implementation of the Discmania Combine, or some of the big events Simon has taken down like the Glass Blown Open, Ledgestone Open, and European Open. Leo won the European Championships this year which was another huge accomplishment. We expect to see some big performances from Eagle as well. He has been really close to a lot of events, I think you're going to see him win some events very soon.
HUCKER: What style of leader are you?
AUSTIN:  I'd say I'm a players leader. I think most of our players look at me as their friend, as they should. They are comfortable coming to me with questions and requests. I want to keep it that way.
HUCKER:  What make your team so special?
AUSTIN: As I said earlier, what makes our team so special is all the different personalities we have on the team. We have goofballs like Simon and Eagle; tour veterans like Dana; soon to be moms in Sarah; students in Logan, Grady, and Connor; young and upcoming players in Colten, Thunder, and Dylan; great promotors in Kyle, Steve and Nate. We also have some great European players like Leo, Jenni and Anders. This continues to add to the different personalities and lifestyles our team possesses. I think having this great diversity on our team makes the players, and overall team, easy to identify with. Whether you're from Sunny California, or the northern tip of Finland, whether you're a youngster just getting into the game or a masters division veteran, male or female, Am or Pro, Team Discmania has someone you can identify with.
HUCKER:  How hard is it for players to switch plastic?
AUSTIN: I think this totally depends on the player. It was difficult for me to switch plastics, but some of our players made the transition easily. It just depends, each case is different.
HUCKER:  How do you develop your team players?
AUSTIN: We develop our players by not applying too much pressure. Sometimes taking a sonship can be a bad thing for a player as they apply much more pressure to themselves. We try to alleviate these pressures and let them know that this isn't all about their performance. We see our players as valuable in many different ways, not just the way they play.
HUCKER:  What do you want your team to exemplify on and off the course?
AUSTIN:  We want our team to stay professional on and off the course. It's extremely important for our players to keep their cool and stay classy even in the worst situations. As always, we want our players to feel comfortable being themselves.
HUCKER:  How does a player get on the team?
AUSTIN: At this point in time we are only signing new players from the Discmania Combine events and private "workouts". This allows us to see how a player performs under pressure and the interview process lets us assess their personality to ensure they will be a good fit for the team.
HUCKER:  Will you accept a manufacturer team match play challenge hosted by HUCKER REPORT in the off season for bragging rights of the manufacturers and to support college disc golfers scholarships?
AUSTIN:  Yes, depending on the level of work and organization it makes from us. We are quite busy.
Thank you Austin for taking the time with HUCKER REPORT.