DUDE SOCK REVIEW
HUCKER REPORT "DUDE SOCK" SCORECARD, BY HUCKER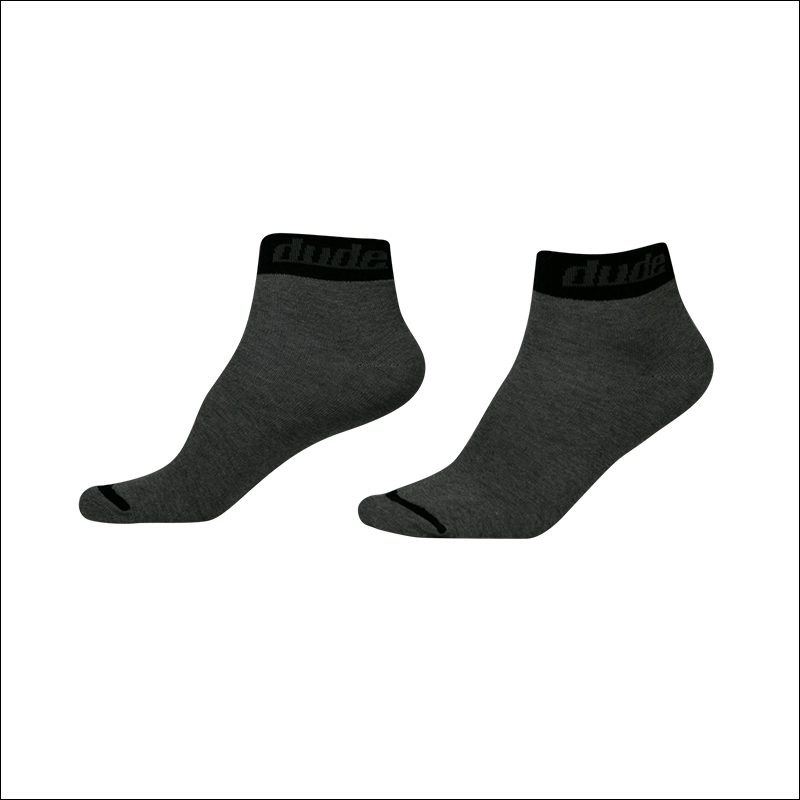 UNTHINKABLE… INCONCEIVABLE… UNBELIEVABLE…
SOCKS THAT ARE REVERSIBLE, COMFORTABLE, SOFT, UNSTINKABLE!
Possibly the world's first – a sock that can be worn up to 14 times without washing!!
MY SCORECARD:
Appearance 9
The DUDE REVERSIBLE UNSTINKABLES are a stylish low ankle sock. As a disc golfer you can wear this on or off the course. It has the DUDE name on the front top foot on the black side and the upper cuff on the grey side. Both very distinct markings reflecting true DUDEISM.
Design 9
The Dude UNSTINKABLES really make for a comfortable sock that is ribbed in all the right places to ensure they do not slide up nor down. The double layer function is durable and prevents blisters by stopping any rubbing of the sock between shoes and skin. It supports the most active feet. It's unbelievable soft.
Selection 10
Simply put: dude socks come in two sizes and two reversible colors. Dude socks are available in two sizes. M-L (7 to 10), or L – XL (10 – 13). Dude socks are two colors in one sock since they are reversible grey marle side can be worn for sports days, or or the black for the evenings out off the course. Look good and smell good with UNSTINKABLES.
Construction 10
The Dude sock is made from 78% cotton, 20% polyamide and 2% elastane, combined with Polygiene. It's the ideal socks to play sport in any conditions, hot or cold weather. It gives comfort and absolute freshness for up to 14 days without washing.
PRICE 10
PRICE $20.00USD: For three pairs (actually six different socks combo) of socks that can be worn for 14 days that's a deal! You save even more money with less washings.
As a tournament player, I wore these socks for a two day tournament. I typically would have callous on my feet and pain. This was the first time I had no rubbing, no blistering, and my feet did not hurt. What was more remarkable was the socks did not smell! This should be a staple for any disc golfer.
DUDE HAS THE BEST SPORT SOCK ON THE MARKET – by combining a reversible sock with its unique anti stink qualities. They are a first of theirkind.